Here's another dress that for weeks, sat unhemmed inside the previously-CRT-TV-cabinet-turned-fabric-stash-cabinet. Incidentally, said TV cabinet is the backdrop for this photo and possibly all future photos as the white door in previous photos usually have a few clothes hanging off its hooks.)
This is another excellent example of why I should stay away from curved seams, the neckline curves were a bit off plus I always manage to burn myself a little with the iron when I try to press these things into submission -- no such luck. But I couldn't be bothered unpicking and re-sewing it as I know from experience that just makes it worse.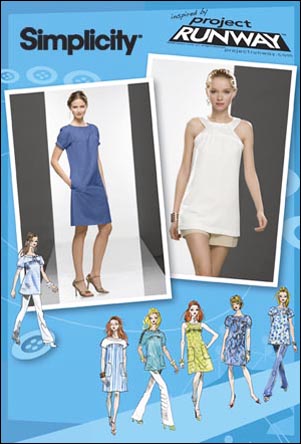 Of course, the fabric is another Lincraft remnant -- almost a meter! Right after cutting the fabric, I immediately wished I made shorts or pants instead as it had a nice stretch to it.
Oh well, the nice stretch gave me an excuse to be lazy and omit the zipper, thus creating a pullover dress. I used pretty little white and gold vintage buttons and fabric loops to secure the halves of the back yoke.
I should take more photos of details like buttons. But I take photos of a bunch of things without knowing what I'll write, so I usually just take a front and a back view. I use iPhoto to put them side by side and load the lot up to flickr. Then, when I get the time I write the post and publish. I have a few more photos up in flickr, each waiting for a post.
But I digress. The dress is not perfect, but I think it'll be fab with coloured tights and boots this Aussie autumn/winter!
Oh and this is my first successful blind-hem stitch by machine. So hurray for that!